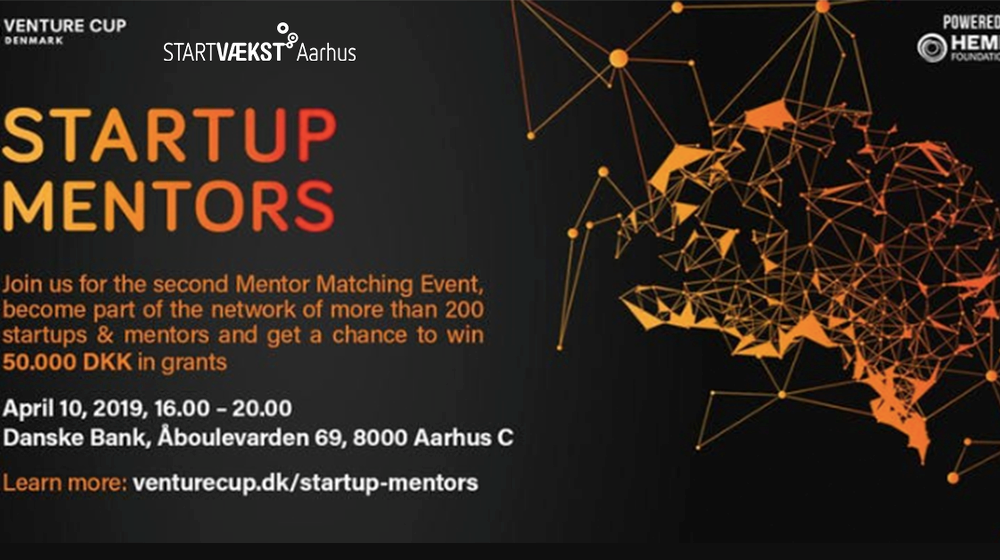 Wednesday d. 10. April 2019
16.00-20.00
Gratis
Registration deadline:
Monday : 08. April 2019 at 08:00
Danske Bank
Åboulevarden 69
8000 Aarhus C
Startup Mentors
Startup Mentors host 6 Matching Events annually, where the entire +200 network of startups and mentors are invited.
What is the event about?
The purpose of the Matching Events is to connect promising founders and their university startups from the eight Danish Universities with business professionals from all sorts of industries. This can be anyone from a business developer, a fundraiser, a strategist, a branding expert to a supply chain manager.

What is the goal of the event?
The end goal is to support the university founders grow their startup business in collaboration with a specific mentor for 6-months, working on specific challenges that both mentor and mentee identify together.
The program and the events are for free to all university students. As well as for mentors.

The 2nd out of 6 events is in Aarhus in collaboration with one of our partners Danske Bank Growth at their headquarters in Åboulevarden 69.

Don't miss out on the event!
So if you are a startup, please join us for this event taking place on April 10, 2019, so that we can match you with a specific mentor and help you grow your business + have you graduated from the 6-mentorship October 2019.

NEW: Participants, who complete the 6-months program, get not only a mentor but also get access to 10 exclusive deals with our partners and a chance to win 50.000 DKK in grants.

NO SHOW: Please note that in case of no-show to each event, we will charge you a fee of 300 DKK.
---